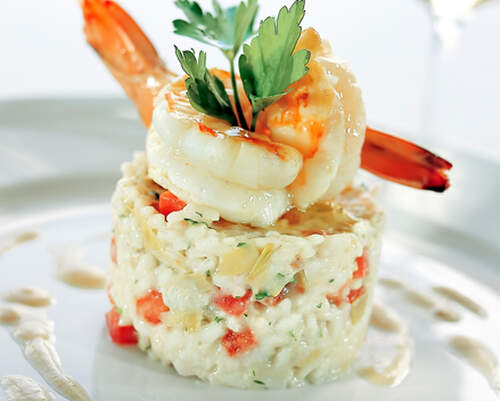 Ingredients
4 tablespoons butter, divided
½-¾ pound shrimp, uncooked, peeled and deveined
½ cup diced onion
1 red bell pepper, finely diced
¼ cup frozen artichoke hearts, drained and finely chopped
1 teaspoon salt
½ teaspoon white pepper
1 cup Arborio rice
½ cup dry Chardonnay
5 ½ cups chicken stock
½ cup grated Parmesan cheese
2 tablespoons fresh Italian flat leaf parsley, finely chopped
Salt and pepper to taste
Instructions
1. Heat 2 tablespoons of the butter in heavy saucepan over medium heat. Toss in shrimp and cook until pink. When done, remove and set aside.
2. Melt 1 tablespoon of the butter in the same pan over moderate heat, then cook the onion, bell pepper and artichokes until translucent. Add the salt and white pepper. Pour in the rice, stirring to coat it with oil.
3. Pour the wine into the pan and bump the heat up to moderate-high, stirring gently to allow the rice to absorb the wine. After the wine evaporates, add stock in ½ cup increments and simmer while stirring, again until the liquid is nearly absorbed. Repeat for 15 minutes until rice is al dente, then remove pan from heat.
4. Stir in Parmesan, remaining 1 tablespoon of butter and parsley, season with salt and pepper to taste and top with shrimp.