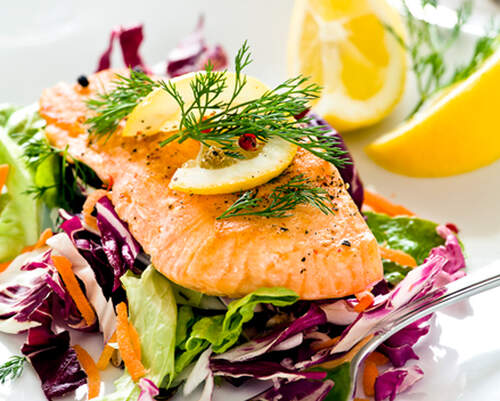 Ingredients
Salmon in Foil
2 pounds salmon
½ cup unsalted butter
½ cup freshly squeezed lemon juice
1 lemon, zested
3 cloves garlic, minced
1 tablespoon dried dill
2 tablespoons fresh dill, chopped
Kosher salt
Fresh ground pepper
Non-stick cooking spray
Dill Slaw
2 cups fresh red cabbage, thinly sliced
1 teaspoon fresh dill, chopped
1 teaspoon fresh lemon juice
1 teaspoon red wine vinegar
¼ teaspoon sugar
¼ teaspoon garlic powder
1/8 teaspoon salt
Fresh-ground pepper l
Instructions
Salmon in Foil
1. Preheat oven to 375 degrees. Line a baking sheet with foil and lightly coat with cooking spray.
2. Whisk butter, lemon juice, zest, garlic, dill and salt and pepper to taste.
3. Place salmon on prepared baking sheet and crimp all four sides of the foil up.
4. Drizzle the butter sauce over the salmon, then fold the foil over the fillet and seal completely.
5. Bake 15-20 minutes until opaque, tender and flaky.
Dill Slaw
1. In a medium bowl, whisk together lemon juice, red wine vinegar, sugar, garlic powder and salt and pepper to taste. Add cabbage and dill and toss to coat.
2. Arrange a bed of slaw on each plate, and top with salmon fillets.
For an Asian-inspired salmon twist, try this variation:
Substitute ¼ cup honey, 3 cloves minced garlic, 2 tablespoons soy sauce, 1 tablespoon rice vinegar, 1 tablespoon sesame oil and 1 tablespoon finely grated fresh ginger for the lemon-dill sauce, reserving some to toss with the slaw.