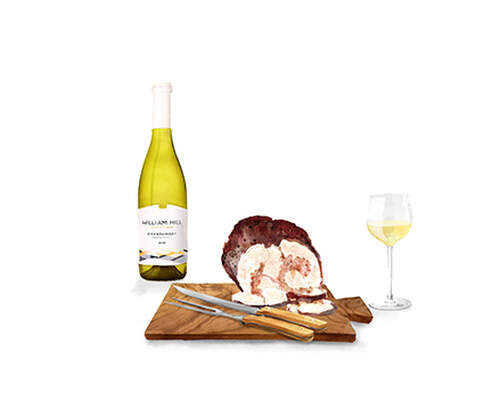 Illustration by Ollie Maxwell.
PIMENTON ROASTED WHOLE TURKEY BREAST WITH CHORIZO
PIMENTON ROASTED WHOLE TURKEY BREAST WITH CHORIZO
Ingredients
1/2 pound Spanish chorizo, cut into 1/4-inch dice
3 onions, halved lengthwise and cut into 1/4-inch wedges
Kosher salt
2 tablespoons sherry vinegar
1/4 cup finely chopped parsley
One 6-pound boneless skin-on whole turkey breast
1 lemon, thinly sliced
Extra-virgin olive oil, for brushing
1 tablespoon pimentón de la Vera (sweet smoked Spanish paprika)
Instructions
1. In a large skillet, cook the chorizo over moderate heat, stirring occasionally, until the fat starts to render, 3 minutes. Add two-thirds of the onion wedges, season with salt and cook, stirring occasionally, until the onions are softened and browned, 10 minutes. Add the vinegar and cook for 1 minute. Stir in the parsley and let cool completely.
2. Set the turkey breast skin side down on a work surface and season with salt. Spread the onion mixture all over the breast meat and under the tenderloins. Evenly space 5 foot-long pieces of kitchen twine under the breast. Fold the sides of the breast into the center, then tie up the turkey breast with the twine to make a neat roast.
3. Spread the lemon slices and the remaining onion wedges in the center of a roasting pan. Set the turkey breast skin side up on the onions and lemons and let stand at room temperature for 1 hour.
4. Preheat the oven to 425°. Brush the turkey breast with olive oil and season generously with salt. Sprinkle the pimentón all over the top and side. Roast for about 1 hour and 10 minutes, basting occasionally with any pan juices, until an instant-read thermometer inserted in the thickest part of the meat registers 160°; tent the roast with foil if it browns too quickly. Transfer the turkey breast to a carving board and let stand for 20 minutes. Thinly slice crosswise and serve.