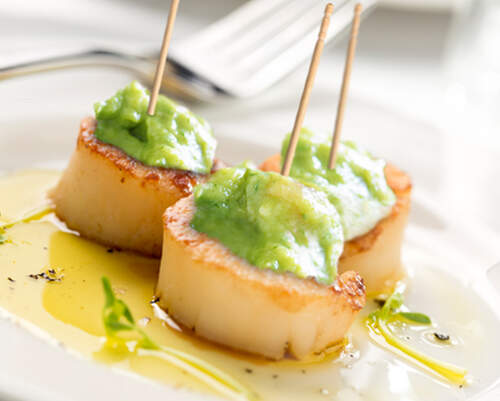 SCALLOPS WITH WASABI AVOCADO CREAM
SCALLOPS WITH WASABI AVOCADO CREAM
Ingredients
Bamboo skewers or toothpicks
1 pound fresh scallops
1 avocado
1 lemon
Wasabi, to taste
Salt
Pepper
Instructions
1. Soak skewers or toothpicks in water for 30-40 minutes to prevent burning on the grill.
2. Rinse scallops thoroughly under cold water, pat very dry and keep cold.
3. To make wasabi avocado cream, scoop avocado meat into a bowl. Mash with a potato masher to get a smooth texture. Add lemon juice and gradually dabs of wasabi sparingly until you reach desired heat. (It doesn't take much.)
4. Thread each scallop onto a skewer and season lightly with salt and pepper.
5. Grill on a clean, hot and oiled grate for 3-4 minutes a side until scallops are cooked through.
6. Top with wasabi avocado cream and serve hot. (For an extra-fancy presentation, pipe in the wasabi avocado cream in a pastry sleeve.)