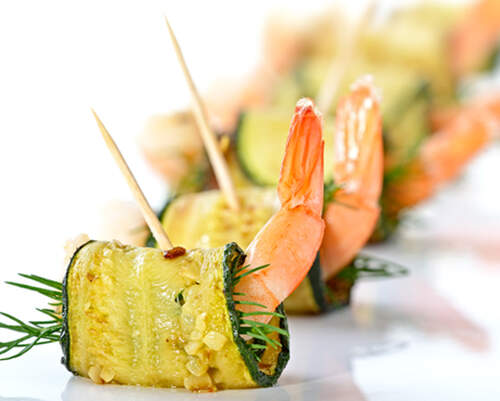 Ingredients
1 pound shrimp, fully cooked, shell off, tail on (optional for presentation), cold
2 large zucchinis
Olive oil cooking spray
4 ounces cream cheese, room temperature
1 teaspoon fresh parsley, minced
½ teaspoon fresh dill, minced
1 garlic clove, pressed
1 scallion, finely sliced
Salt and pepper
Fresh dill sprigs
Toothpicks
Instructions
Prepare zucchini strips:
1. Preheat oven to 320 degrees.
2. Use a vegetable peeler, cut zucchini lengthwise into strips. Spray each strip front and back with olive oil.
3. Place them on a baking sheet and bake for about five minutes, then allow to completely cool.
Make spread:
In small bowl, combine cream cheese, parsley, chopped dill, garlic and onion. Season with salt and pepper to taste.
Assemble:
1. Spread 1-1 ½ teaspoon of the cream cheese mixture on each zucchini slice, then add a sprig of dill and one shrimp.
2. Roll, secure with toothpick and serve cold.